'How is this making us any safer? How is this making America a better place?' asks father-of-four Jesus Lara Lopez's lawyer as he is forced out of America
A man said goodbye to his wife and four children as he was deported from the US to Mexico after 16 years.
Campaigners, lawyers and politicians arrived at Cleveland airport to denounce Jesus Lara Lopez's removal as one of "the darkest times in our nation".
Mr Lara Lopez comforted his children, who will now grow up without a father present. He will not be allowed to return for at least 10 years.
The father-of-four's deportation is part of a crackdown by Donald Trump's administration on all undocumented immigrants. Under President Barack Obama, Immigration and Customs (ICE) had focused on deporting only illegal immigrants who had criminal records. Mr Lara Lopez does not have one.
Mr Lara Lopez, 37, arrived in Florida as an undocumented immigrant in 2001 after leaving Chiapas, Mexico, because he could not find work.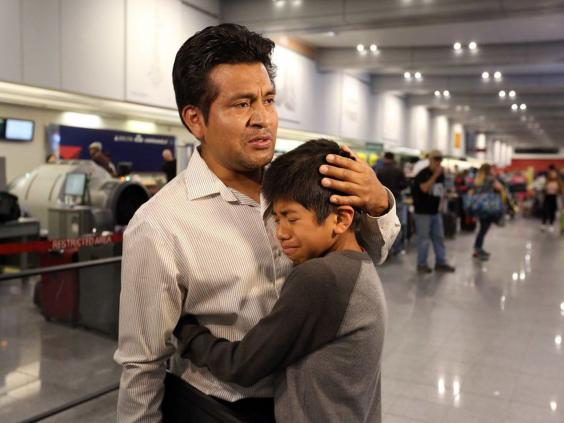 He has worked several jobs in the US, from picking vegetables to most recently packing cookies for Pepperidge Farm, a bakery company owned by multinational Campbell's Soup.
He has raised sons Eric, 14, Edwin, 11, Anuar, 10, and daughter Elsiy, 6, all born Americans. He has never taken public welfare assistance. Last year, he and his wife Anahí bought a house.
Jesus Lara Lopez was escorted onto a flight from Cleveland by ICE agents. The officers chose to wait for their client after the security checkpoint, in order to avoid contact with the protestors.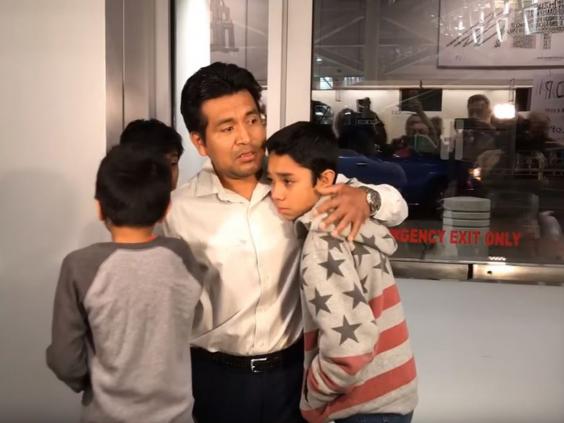 "How is this making us any safer? How is this making America a better place? These are the darkest times I have ever seen," his lawyer David Leopold said at the airport, in scenes captured by US television station WKYC.
"I contacted the governor and [Ohio Attorney General] Mike DeWine, but it did no good. This good man is being deported and I have to ask how this makes our country any safer."
"Since 2008, Jesus did everything ICE asked him to do. He showed up every time he was asked, and did whatever they wanted."
"He presented all his tax records since 2002, showing he has been a taxpayer, which is more than our president has done," Mr Leopold told Cleveland paper The Plain Dealer.
"He held down jobs and raised a family. He never collected welfare, food stamps, unemployment compensation or housing assistance. He has never been in trouble with the law, he attends church and is the kind of person we want to live here."
Mr Lara Lopez's 14-year-old son Eric has launched an online crowdfunding campaign to help his mother pay the mortgage on her family's new home without her husband's US income.
"I am only 14, I am not ready to be the man of the house, but I have to help my mom out somehow", wrote Eric.
"My dad will work in Mexico as soon as he can get a job, but the money he makes there won't be enough to support us all."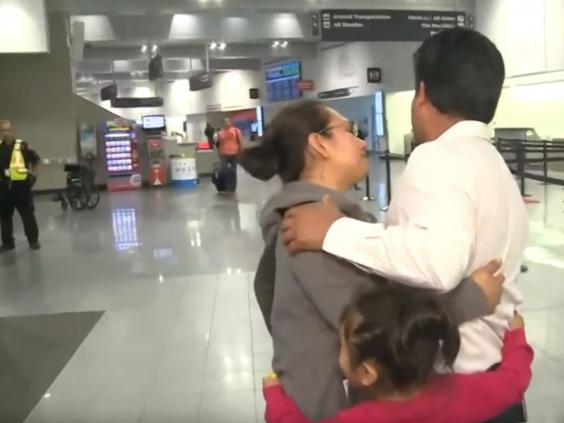 "My mom, siblings, and I don't know what to do without him here."
Eric's campaign has raised almost $22,000 (£17,000) in five days.
After a traffic stop in 2008, police reported Mr Lara Lopez to ICE. It issued a deportation order, but after an appeal to an immigration judge, he was allowed to stay and work.
In 2011 his appeal finally failed, but he was permitted to stay until the deportation order was activated.  His case was given low priority.
But in March, Mr Lara Lopez was summoned to an ICE office, given an ankle tag and told to prepare for deportation.
"Homeland Security Secretary John F Kelly has made it clear that ICE will no longer exempt any class of individuals from removal proceedings if they are found to be in the country illegally," says a report by ICE.
The bishop of Toledo, Ohio, has advocated for Mr Lara Lopez and his family.
"While I recognise the federal government's role in upholding immigration laws, deporting people who have lived, worked and raised a family in this great country is not the American way," said Bishop Daniel Thomas in a statement.
"This is one more tragic example of how our immigration system is broken and how essential it is to immediately reform that system in order to guarantee the dignity of all persons and the integrity of the family."
During President Trump's first 100 days in office, ICE arrested more than 41,000 people suspected of being in the US illegally. This is almost 40 per cent more than over the same period in 2016, according to the ICE website.
https://abeeraminlaw.com/wp-content/uploads/sites/32/2017/01/aa-logo.jpg
0
0
abeeramin
https://abeeraminlaw.com/wp-content/uploads/sites/32/2017/01/aa-logo.jpg
abeeramin
2017-08-01 17:53:30
2017-08-01 17:53:30
Donald Trump's immigration crackdown encapsulated in poignant images of father being deported